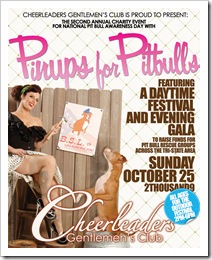 Pinups for Pitbulls is hosting a huge all-day event at Cheerleader's Bikini Bar in S. Philadelphia. Event includes Keynote speakers from the Pit Bull Hoax (Drayton Michaels www.pitbullguru.com), Kathy McGuire, President of NJ Aid for Animals, Buzz Miller of Buzzy's Bow Wow & Meow , Little Darling of Pinups for Pitbulls and so many more!
We'll have all kinds of wonderful vendors, Burlesque & Side Show performers, Art Auction & Raffle, and so much more! There will be adoptable dogs attending the daytime event and well-behaved dogs are welcome!
We will also be releasing the 2010 Pinups for Pitbulls Calendar at this event — see below for more info!
You don't want to miss this amazing event!!! It will be our biggest event to date!
If you can't make it to our event, you can make a tax-deductible donation here!
Cheerleaders 2740 South Front Street Philadelphia, PA 215) 467-1980 http://philly.cheerleadersweb.com
Day Event: 2-6pm, ALL AGES WELCOME Dress Code for Day Event: Casual & Fun
Evening Event: 6pm-1am, Club Age restriction 21+
Dress Code for Evening Event: *Fashionably Casual
– Ladies, Casual or Dress Up! Pin Up!
– Men, no hoodies/hats/undershirts/workboots, etc.
– No Cover Charge Until 6:00pm
After 6pm $15 General Admission
VIP Admission $30 (Includes 2 Hour Select Open Bar and Dinner Buffet from 6pm-8pm)
PERFORMANCES BY:
Little Darling – Founder of Pinups for Pitbulls, D'arcy D'Lux and Miss Candy Mayhem!
I think Ginger and I will be making a trek over the bridge for at least a portion of the day time event.  She needs to make some new friends. 🙂