Since it was such a nice day yesterday, and I need to get rid of my "spare tire", it was time to rock four new geocaches. Sadly, I only found two of them first. Then again, I was being nice! The first cache was semi-important to me as I had been unable to find it previously. So that was a nice little victory. Pictured below are some ducks from the third one, they really had great colors on them. It is just a shame that my phone kinda sucks for taking pictures, and I left the pocket digital camera in Delaware.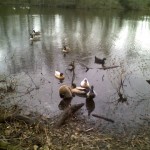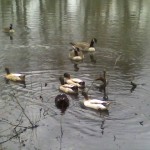 As we draw to the end of 2008, and I look toward 2009 it is that time to reevaluate my goals, and decide where I want to be this time next year.  As much as I say "when I win the lottery" I know that is not going to happen,  well at least I shouldn't plan for it.   I have been spending the past week thinking about everything that has happened to me in the past year.  Including but not limited to the decisions that I have made, others have made, and how they have affected me.   Some decisions which I thought were minor, ended up turning out to be fairly major.
As a result, I have pretty much created a document which has a major goal on it, which is more of a general guideline.   Next I've written down a few minor goals, which blend into the steps to achieve those goals.  Which can be thought of as a set of realistic resolutions. Just a few of my many small steps include:
Cutting back on the dark cola's, and eventually commercial/chemical filled soda's all together.
Following up on the path I have been on to eat better, healthier and more organic food.
Increasing my cardiovascular health, something I have been working on since quitting smoking last January.
Increase my flexibility through my morning yoga sessions, followed by a few minutes of meditation.
Keep in mind that my resolutions are realistic, not delusions of grandeur such a save every penny, reinvest and make a mint in the stock exchange.  After all, I have a better chance of breaking even with the money I invested in Crox than I do of seeing a dime of that lottery money. 🙂